Dr. Lanfermann® Deo Creme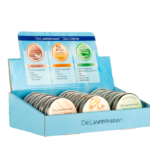 Dr. Lanfermann® Deo Creme is available in three different variations – as standard, as natural cosmetics and as foot deodorant cream. All are made from selected vegan raw materials and all meet the requirements of halal cosmetics. By dispensing with aluminium salts, the deodorant creams certainly prevent the smell of sweat, but not perspiration. And last but not least, all creams work for several hours to days, depending on the ambient temperature. All creams are very productive. 30 g can last up to 4 months with recommended use. Thus we support the waste avoidance, and/or waste reduction.
Dr. Lanfermann® Deo Cream vegan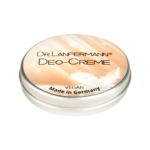 The standard deodorant cream contains pharmaceutical Vaseline and is most effective. After showering, a small amount of cream is lightly distributed under the armpits. This is enough to destroy the odour-producing bacteria. The cream is gentle on the skin and usually leaves no traces on the clothing. But you don't have to do without the next shower. The deodorant cream is still effective. Only when the odours appear again, the process is repeated. Tests in hot areas at 40°C showed an effectiveness up to three days. The subtle, slightly bitter citrus scent is achieved by adding lime oil.
Dr. Lanfermann® Deo Cream Natural Cosmetics vegan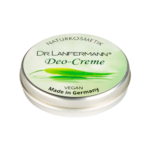 The deodorant cream as a natural cosmetic has a similar structure to the standard deodorant cream. Here, only the Vaseline was replaced with a natural jojoba wax. In addition, all raw materials come from controlled organic cultivation. The effectiveness against odour-forming bacteria is the same as with the standard deodorant cream, but the effectiveness does not last so long. In tests in Germany and Italy up to three days effectiveness were reached. This cream meets the requirements of COSMOS as a natural cosmetic. The Deo Creme smells pleasantly of sweet oranges.
Dr. Lanfermann® foot deodorant cream vegan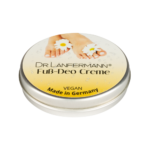 In hot regions, when wearing closed shoes for hours or working shoes, the feet are exposed to martyrdom. Not only unpleasant odours develop, but also partial reddening between the toes. The foot deodorant cream counteracts this circumstance. The cream is gentle on the skin, protects it and prevents unpleasant odours. Even if the feet are washed daily, the foot deodorant cream only needs to be renewed when the effect fades. Even in stubborn cases, success was achieved very quickly.
In 2019 Dr. Lanfermann® Foot – Deocreme was tested by vergleich.org and was awarded as best foot deodorant.