PUR ALP® supplements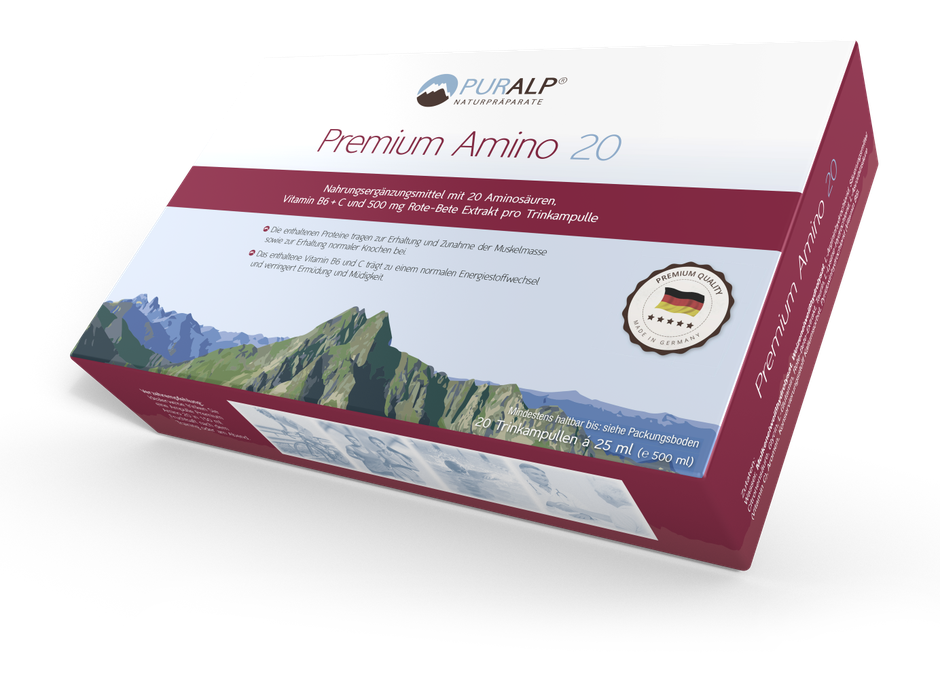 Premium Amino 20 is an amino acid complex with hydrolyzed whey and wheat protein, beetroot extract and vitamins B6 and C.
Amino acids are the building blocks of our lives. However, our body can only produce the non-essential amino acids itself. We can only absorb essential amino acids through our food or as dietary supplements. The absorption by our body takes some time. PREMIUM AMINO 20 ensures rapid absorption by hydrolysed whey and wheat protein as well as by cleaved proteins. The addition of beetroot extract and vitamins B6 and 6 has resulted in a unique quality product.
Amino acids are essential for the function of our body. When the balance is disturbed, the body takes the necessary energy from the muscles. With the effect that the muscles shrink. To prevent this, we recommend the food supplement PREMIUM AMINO 20.
All necessary components are optimally combined in it. This not only benefits the muscles, it also promotes muscle growth. Likewise, signs of fatigue only become visible later.
This excellent nutritional supplement with a balanced amino acid complex from PURALP is ideally suited for the training phases of endurance athletes. It is also suitable for all those who prefer a low-carbohydrate and high protein diet.
The proteins in PREMIUM AMINO 20 contribute to the maintenance and increase of muscle mass and have a preventive effect for healthy bones. Vitamins B6 and C support the normal energetic metabolic process and reduce sagging and fatigue.
Recommended use: Ideally you drink a bottle of PREMIUM AMINO 20 with 150 ml fruit juice directly after training or in the evening.
Translated with www.DeepL.com/Translator