PUR ALP® Propolis products
The Allgäu is still one of the last areas in Germany where one feels connected to nature. Not only the great mountain panorama attracts the visitors, also the fresh air and the smell of untouched nature. Here is also the home of several beehives. The busy bees collect the nectar of forest and meadow all summer long. Under the expert care of a beekeeper, the delicious honey is obtained. But such a bienstock also offers other useful products for people. For example Royal Jelly and Propolis.
PUR ALP® Propolis Bio Salbe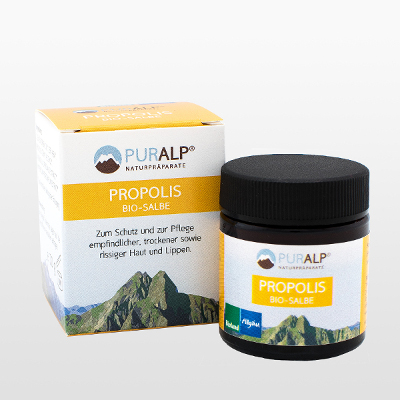 In Propolis Bio Salbe, PUR ALP adds propolis to optimize the care of cracked skin and brittle lips. The basis is natural beeswax with olive oil. This ointment film is particularly gentle on skin and lips. Calendula oil and St. John's wort oil are well-known oils that are also used to heal wounds and promote skin care.
Propolis Organic Ointment is very mild and forms an intensive care film on the skin. Diabetics also like to use this ointment.
However, in case of sensitivities or allergies to propolis, this product should not be used.
All ingredients are of natural origin. The product is Bioland certified.